Automatic Home Standby Generators
Guardian automatic home standby generators can be installed during new construction or retrofitted into existing residences and businesses. These units are powered by either natural gas or liquid propane (LPG), and come in models ranging in output from 7 to 40 kW. These gensets operate with matched automatic transfer switches that responds within seconds when utility power is lost.

Guardian is the top-selling brand in residential backup power, providing reliable emergency standby electricity for homes and small businesses. These fully automatic systems are the most affordable and easiest generators to install. The Guardian systems restore power within 30 seconds of an outage. Output ranges from 6 to 40 kW to meet a wide variety of applications.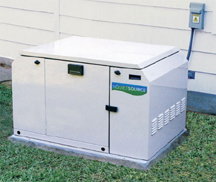 Guardian QuietSource Home Standby generator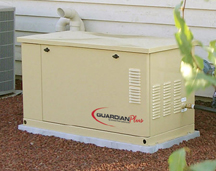 Guardian Plus Home Standby generator